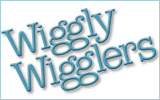 Wiggly Wigglers is an award-winning, natural gardening company based on Lower Blakemere Farm in Herefordshire. They supply everything that they need straight from their farm & in this instance, grow their own flowers which go into their bouquets.
The Wiggly Wigglers website is very informative giving you information about eco-living, growing your own vegetables & gardening tips as well as an online shop dedicated to those various topics and much more! The simplistic layout is easy on your eyes & very easy to navigation throughout. I love the fact that each section is extremely detailed giving you handy tips & also reviews from other customers on their purchasing experience. The reviews are a welcome addition as sometimes when you buy things online from stores you haven't used before, you have no clue what the end product will look like & if it will actually live up to it's description.
The bouquet we received was priced at £50 and comes with free weekday delivery and is great value for money compared to other florists and something that I would very happily received or give as a gift. Wiggly Wigglers has a great range of bouquets and flower arrangements for every occasion and to suit every budget.
Have a look at the huge range of products on offer from Wiggly Wigglers on their website, it's cram packed with some lovely ideas for the keen gardener or domestic goddess – everything you need for the "Good Life".
How to Order at Wigglywigglers.co.uk
Wigglywigglers.co.uk offers you the fastest, easiest way to shop for products that suits your personal needs. All orders are delivered using next day service and Wiggly Wigglers delivers across the UK. There is FREE delivery for orders containing only live Birdfood, Fresh Flowers and/or Gift Vouchers. All other deliveries cost £3.95 per order no matter how big or bulky.
If you ever need anything help is always a phone call or email away. Do you prefer catalogue shopping? Simply fill out a quick order form on the site and Wiggly Wigglers will send you a catalogue in the post. Wiggly Wigglers will always strive to satisfy your delivery needs. If you need an item delivered overseas or to a special UK postcode the team is ready to help you and will provide all the information that you need over the phone.
Conclusion
At Wiggly Wigglers you get the highest quality products from a company with a proven track record. A company with strong unflinching values, one that will not waver in its commitment to quality. You get the best quality, service and value for money with every purchase. We would certainly recommend them to anyone wishing to send a bouquet with a difference to someone in their life!
>> Click here to visit WigglyWigglers.co.uk